Printing pads

SICATECH is a worldwide leading manufacturer of pads, with over 1500 different varieties, the next pages includes our standard pads, but the shapes might vary a little from the picture – please ask if you want a picture of a specific pad.
We have many distinct types and shapes of special pads, please ask and we will help you find the best solution for your printing application.
We will be happy to work with you and develop a pad for your needs.
If we don't have the right one, we will make the right one!
Our silicone pads are made standard on wood socket with M6, aluminium or steel socket, but other solutions are possible.
We offer a special customized padholder with magnetic click attachment which makes it possible to change pads in seconds without screwdriver or setup and it is a very short production stop. The system even includes fitted packaging for delivery of pads and return of the steel sockets.
---
Padholder
SICATECH magnetic quick release makes it easy and quick to replace silicone pad while maintaining fixation (great when using multiple silicone pads when changing the rest as it is extremely important to have the same fixation). The quick release can also be combined with our customized bracket where the silicone pad cast directly on the steel base.
SICATECH click attachment, in addition to standard sockets and magnetic fasteners, we have a clamp bracket where the silicone pad is cast directly onto the steel socket (customized), making it easy to change the silicone pad in a few seconds without any screw mounting or adjustment and thus a minimum of shutdown. The click fastening system also includes customized packaging for delivery of silicone pads and return sockets.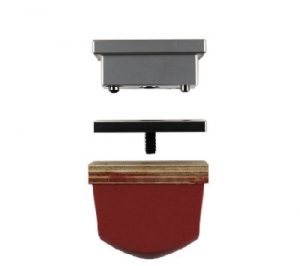 ---